The perfect drink for the smoky flavors of grilled foods and BBQ is craft beer. And not just mass-market lawn-mower lagers, either.
From the citrusy quenching of weissbier to the roasty flavors of porter and stout, there's a spectrum of beer tastes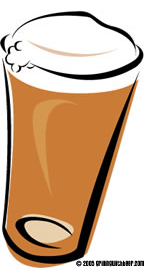 suited for smoke.
Why use beer in a BBQ sauce? First and foremost, flavor. Beer is much less acidic than wine, vinegar or citrus juices commonly used in BBQ sauces and marinades. It will tenderize meats without breaking down texture as rapidly as more powerful acids. Also, the balanced flavor in beer means that the other herbs and spices will not be overwhelmed by acetic notes.
Second, beer is less expensive than wine. It's possible to use a very fine quality ale to make more than a quart of marinade, and still spend less than $5.
Third, the variety in North American beer styles encourages experimenting in the kitchen. From apricot ale to witbier, there's a flavor that matches a meat, chicken or seafood sauce destined for the grill.
Fourth, drinking beer with BBQ -- especially dark beer such as porters and stouts -- defuses potentially dangerous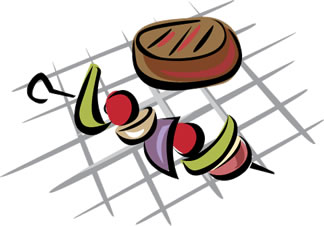 compounds HAAS (heteroclyclate aromatic amines), according to the Journal of Agricultural and Food Chemistry (thanks to Portland, Oregon food writer and restaurant critic, Jim Dixon, http://www.realgoodfood.com).
Follow the links above for recipes, profiles of chefs and brewers who enjoy grilling with craft beer, plus a preview from my upcoming cookbook, GRILLING WITH BEER.
And if you truly love the flavors of beer and food, be sure to visit www.beercook.com - because beer is food!