In coming months, I will add profiles of chefs and BBQ/beer destinations from across North America, New Zealand and Australia.
There are hundreds of chefs across North America who adore craft beer and BBQ, but few have elevated it as has chef Brian Morin of Toronto's beerbistro:
18 King Street
Toronto Ontario, Canada
(416) 861-8242
From a review in the Celebrator Beer News:

I drove into Toronto from cottage country, ready for Toronto's bustle after 5 days on an island. Tired from the drive, I checked into the Fairmont Royal York, one of Canada's largest grand historic places. After swapping my flip-flops for more elegant street shoes, I strolled down King Street just a few blocks to find my destination, the beerbistro.

A large cement orb, relic of the previous cafe's decor, looked to me like a gigantic beer bubble resting on the sidewalk under the awning. But luckily, real beers, lots and lots of them, await inside.
You see, beerbistro is one of several upscale brasseries newly opened in Toronto over the last year. But beerbistro offers the best selection of freshly prepared, imaginative cuisine, to be savored with one of more than 100 bottled beers and 20 draft beers. Augmented by a wine list and complete bar, the beerbistro is a haven for beer lovers who enjoy fine dining.

The bubble motif continued throughout the dining room, as large crystal rounds hover in cables over the window to the open kitchen. Round white-clothed tables and globe lamps suspended from the ceiling add to the orbital ambiance.

Menu choices are painted on mirrors in white script, reflecting light from the white walls. The environment manages to feel both intimate and bright, plush and casual, thanks to the friendly servers. An elevated iron scrim, covered in silk hops bines, provides a screen from the bar area to the dining room.
Three sous chefs, working under the direction of executive chef Brian Morin (formerly of Bier Markt), assembled dishes and worked the grill. While a few basics such as a club sandwich and burger do appear on the menu, the execution of these dishes is anything but basic. For example, the burger is bathed in Leffe Brun, which adds a hint of malty sweetness to the grilled meat.

Chef Brian Morin, and restauranteur/columnist Steve Beaumont, greeted me with a selection of appetizers and tasting beers. A flight of three tasting beers from the draft selection, presented in mini snifters, costs just $6 CDN, a true bargain for American visitors.

Beaumont told me, "Canadians consume more beer during July and August than at any other time of the year, but all too often, that just means drinking more of the same brand. We take a different approach to summer, offering a bigger selection of beers that truly suit the summer season."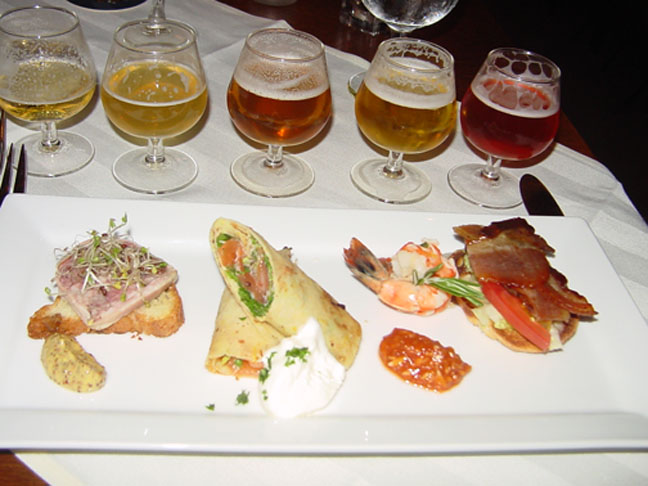 The quenching Denison's Wheat beer, crisp Mill Street Sparkling Ale, a refreshingly dry-hopped Summer Ale from Granite Brewery, and fruity Ephemere Pomme from Unibroue are highlights from the seasonal beer list.
Organized by tasting themes, such "contemplative," "sociable," "satisfying," or "bold," the 20-page beer menu offers details on each beer including style, ABV and tasting notes culled from Beaumont's extensive travels and resources such as World of Beer. As often as humanly possible, beers are served in the brewery's correct glassware and at the correct temperature, thanks both to a specially commissioned Perlick draft system and a good cellar manager.

Chef Morin loves to grill, BBQ and even cure and brine meats with beer. One of the amazing appetizers is grilled beer flatbread with several dips: best bitter hummus, curried squash, and ale-infused herbed tomatoes. Note that three of the four items in this appetizer use beer as an ingredient - that ratio spans the entire menu, from appetizers, soups, salads, pizzas, mussels, sandwiches and entrees.

About 70 percent of the dishes use beer in some phase of preparation, but my favorites are the beer-cured smoked salmon and the Leffe brun-brined pork bellies that are smoked to make the bistro's own bacon. Yup, even the bacon for the club sandwiches is made in-house, adding Morin's culinary creativity to the most basic dishes. Gravlax is cured in strong golden ale with sea salt. Smoked sausage for the pizza is made from ground lamb marinated in McAuslan's award-winning St. Ambroise Oatmeal Stout with rosemary and pepper, a classic combination. Sour cream used to garnish a luscious lobster quesadilla is made with a sour starter cultivated from Cantillon Gueuze.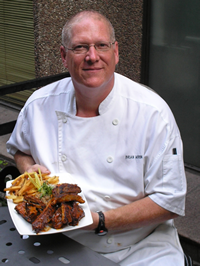 Beaumont's favorites on the menu are the cherrywood-smoked baby back ribs, braised in 6 liters of Ephemere Pomme and finished with spicy BBQ sauce. They are meltingly tender and flavorful, and extremely rich. Chef Morin, pictured at right, holds a platter of the succulent ribs.

Outside the kitchen, beerbistro's service is wonderful. The hostess, Dayna, knows more about beer than do many beer geeks, and she guides the other servers skillfully. The beerbistro is well worth the trek to Toronto, for both the tremendous selection of beers and the delicious food.